Welcome to the Blog + Review Tour for Where Wild Roses Bloom by Angela K. Couch, hosted by JustRead Publicity Tours!
ABOUT THE BOOK – Where Wild Roses Bloom
Title: Where Wild Roses Bloom
Series: Heart of a Mountie #1
Author: Angela K. Couch
Publisher: Smitten Historical Romance
Release Date: March 15, 2022
Genre: Historical Romance, Christian
Links in this post may be affiliate links. Purchases made using these links will not cost you more but may pay me an affiliate fee. Check out my links at the end of this posts of things that I think may interest you. Thanks for using my links which help support this blog.
When Lenora Perry's dream of becoming an acclaimed singer dies a painful death, she attempts to escape her mistakes by fleeing north—directly into the path of an all-too-dashing Mountie. Though the man in scarlet appears eager to be rid of her, his home provides security, and his sister offers friendship—two things Lenora is desperate for after discovering her pregnancy. With the past dogging her footsteps and her future uncertain, dare she consider new dreams?
Upholding the law makes up the fabric of Constable Edmond Bryce's existence. As his five years of service draw to an end, he must decide whether or not to continue in his father's footsteps—an increasingly difficult decision now that Miss Perry has infiltrated his life. Though she's the daughter of a parson and a close friend to his sister, Edmond can't push aside the feeling that Lenora hides more than she tells. But duty calls, leaving little time for matters of the heart.
PURCHASE LINKS*: Goodreads | Amazon | Barnes & Noble | BookDepository | IndieBound | Christianbook
ALSO AVAILABLE
---
ABOUT THE AUTHOR – Angela K. Couch
To keep from freezing in the Great White North, Angela K. Couch cuddles under quilts with her laptop. Winning short story contests, being a semi-finalist in ACFW's Genesis Contest, and a finalist in the International Digital Awards also helped warm her up. As a passionate believer in Christ, her faith permeates the stories she tells. Her martial arts training, experience with horses, and appreciation for good romance sneak in there, as well. When not writing, she stays fit (and warm) by chasing after five munchkins.
CONNECT WITH ANGELA: Website | Facebook | Twitter
---
GUEST POST – The Difference readers make for writers by Angela Couch
I have been a writer for decades without readers. It has only been the past several years that my work has reached the general public. I underestimated the difference. 
I've had the goal since I was a child to be published, a desire passed down for a couple generations, from my grandfather to my father and on to me. I imagined how it would feel to have others read and appreciate my stories. In this thing, my imagination lacked. 
To have other people read your work, to hear their appreciation for good, clean literature. To hear their appreciation for the adventure that you took them on, the love story that you unfolded before them. To hear the things they have learned or the emotions they've felt because of your words… is very fulfilling. Suddenly, you go from writing for yourself, to writing for your reader because you want to reach them and move them, to make them laugh and cry. 
The next thing you know, you are laughing and crying too. 
It becomes a wonderful cycle of filling someone's need, of offering a service, and of being given so much in return. Because there is nothing sweeter to a writer's ears then "I read your book, and it helped me realize…" 
For the record, we also love hearing about how much sleep we made you lose. 😉
Thanks for sharing with my readers today, Angela. I loved reading your perspective on how important your readers are. 
TOUR GIVEAWAY
(1) winner will receive a $25 Amazon gift card!
Be sure to check out each stop on the tour for more chances to win. Full tour schedule linked below. Giveaway began at midnight March 14, 2022 and lasts through 11:59 PM EST on March 21, 2022. Winner will be notified within 2 weeks of close of the giveaway and given 48 hours to respond or risk forfeiture of prize. US/CAN only. Void where prohibited by law or logistics.
Giveaway is subject to the policies found here.
ENTER GIVEAWAY HERE
https://widget.gleamjs.io/e.js
---
Follow along at JustRead Tours for a full list of stops!
*NOTE: This post contains affiliate links.
Did you know that March is National Craft Month?
March is also National Reading Month.
Here are some products that may help you celebrate. If you have a Maker space you can find supplies at several of these vendors.
KidArtLit is the only kids' membership that combines high-quality literature & process-oriented art projects!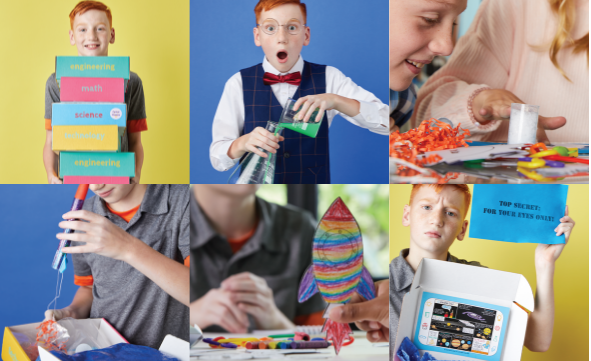 Genius Box from AnniesLearning should be an adventure for kids! Activate their imagination and problem-solving skills with fun, hands-on STEM (Science, Technology, Engineering, and Math) activities. Designed for kids ages 7-12, each Genius Box kit contains 3 exciting activities to engage critical thinking and build lifelong skills—PLUS all materials.
crafting is easy with We Craft Box.
Green Kid Crafts provides 4-6 educator designed STEAM projects in every box. Millions choose us for our award-winning hands-on activities.
Craft Stash has a great sale right now SAVE SAVE SAVE – Exclusive Brand Discounts – Buy 1 save 21%, Buy 2 save 22%, Buy 3 save 23%, buy 4 save 24%, buy 5 save 25%
You can purchase books at: (affiliate links)
I55 Fundraising – If you are looking to purchase books for your library (or for personal use) or a company to use for Book Fairs – I recommend I55 Fundraising.
Kindle Unlimited Membership Plans
If you are an avid reader, you need to check out my Reading Journal for Book Lovers is perfect for readers. As a paperback, Reading Journal for Book Lovers is a great gift for all book lovers, bloggers, and book reviewers.