Author: Jenny Knipfer
Narrator: Jenn Lee
Length: 7 hours 9 minutes
Series: Sheltering Trees, Book 1
Publisher: Jenny Knipfer
Producer: Audiobook Empire
Released: July 7, 2021
Genre: Historical Romance; Christian Fiction

Links in this post may be affiliate links. Purchases made using these links will not cost you more but may pay me an affiliate fee. Check out my links at the end of this posts of things that I think may interest you. Thanks for using my links which help support this blog.
A HISTORICAL NOVEL OF THE PERILS OF NEWLYWED LIFE AND ALL THAT COMES TO DIVIDE LOVERS

In 1897 newly married Beryl and Edward Massart travel more than one thousand miles from Quebec to farm a plot of land in Wisconsin that they bought sight-unseen. An almost magical grove of maples on their property inspires them to dream of a real home built within the grove, not the tiny log cabin they've come to live in.

Misunderstandings and tempers get the better of them when difficulties and troubles arise. Just months after they wed, Edward leaves pregnant Beryl in the midst of the coming winter to tend the farm and animals while he goes to be a teamster at a northern Wisconsin logging camp.

Will Beryl and Edward walk into the future together to build their house of dreams in the grove of maples, or will their plans topple like a house of sticks when the winds of misunderstanding and disaster strike?

Readers of Christian historical fiction, Historical fiction, Women's fiction, and Christian historical romance will be endeared to this slice of late 19th century farm life.


Jenny lives in Wisconsin with her husband, Ken, and their pet Yorkie, Ruby. She is also a mom and loves being a grandma. She enjoys many creative pursuits but finds writing the most fulfilling.
Spending many years as a librarian in a local public library, Jenny recently switched to using her skills as a floral designer in a retail flower shop. She is now retired from work due to disability. Her education background stems from psychology, music, and cultural missions.
Jenny's favorite place to relax is by the western shore of Lake Superior, where her novel series, By The Light of the Moon, is set.
She deems a cup of tea and a good book an essential part of every day. When not writing, Jenny can be found reading, tending to her many houseplants, or piecing quilt blocks at her sewing machine.
Her new historical fiction, four-part series entitled, Sheltering Trees, is set in the area Jenny grew up in, where she currently lives, and places along Minnesota's Northern Shore, where she loves to visit. She is currently writing a four-part novella series entitled: Botanical Seasons.
Keep current with Jenny by visiting her website at https://jennyknipfer.com. Ways to connect with Jenny via social media, newsletter, and various book sites can be found on her website.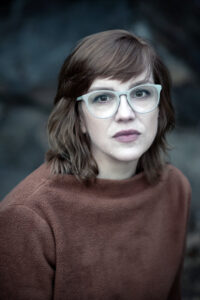 After 20+ years as professional NYC actor, I stumbled into some documentary voiceover work. From that moment on, I knew the trajectory of my career had been changed forever. I adore narrating and doing VO, and every job feels like a gift.
Q&A with AuthorJenny Knipfer
Was a possible audiobook recording something you were conscious of while writing?

I had looked into doing an audiobook production before with one of my books in my first series, By the Light of the Moon, but found the expense as an indie author was more than I could afford. I didn't even have it on my radar with

In a Grove of Maples.

How did you select your narrator?

My narrator, Jenn Lee, found me on Instagram and asked if I'd be interested in discussing a possible collaboration. I sent her the book, and she liked it and wanted to narrate it. She offered to do a profit share with me, making this more affordable for me, and we started the ball rolling with Audiobook Empire.

How closely did you work with your narrator before and during the recording process? Did you give them any pronunciation tips or special insight into the characters?

Jenn and I were in communication as she worked. She asked for any specific pronunciations, and I corrected a few. I sent her character profiles on the main characters to help her get a better feel for their personalities.

Were there any real life inspirations behind your writing?

Yes.

In a Grove of Maples

is inspired by my grandparents and their lives as Wisconsin farmers in the late 1890's. I don't know a lot about my grandparents and their experience, but I stitched together what I did know with what I suppose their lives may have been like.

Are you an audiobook listener? What about the audiobook format appeals to you?

I often listened to audiobooks when I used to go for walks and enjoyed it very much. Now with my disability and busyness as an author, I haven't found much time to listen, but I'd like to change that.

What gets you out of a writing slump? What about a reading slump?

I haven't experienced writer's block yet. If I don't know where the story is going, I take a break and mull it over, asking questions and writing down at least five possible ways to proceed. This process works for me and hasn't failed yet.

Once in a while, I find myself in a reading slump. When that happens, I take a reading break and watch more TV. When I do get back to reading, I choose a different genre than my usual one of historical fiction.

Have any of your characters ever appeared in your dreams?

I dream about my characters quite a bit! Sometimes, my best scenes come from my dreams.

How did you celebrate after finishing this novel?

I didn't do anything in particular after finishing

In a Grove of Maples,

but I always take a writing break of at least two weeks after I finish a novel. I read, relax, eat a special treat or two, and scheme ideas for the next title.

In your opinion, what are the pros and cons of writing a stand-alone novel vs. writing a series?

I have not written a stand-alone novel yet. Writing novels in a series comes natural to me, but I can see how a single novel might be nice as well. Though my books are all in a series, they are loosely linked and, for the most part, can be read separately. Some readers don't realize that and may be deterred from reading my four-part series. I love to read series, sticking with a town or family for several books, I guess it's natural that I write that way.

Is there a particular part of this story that you feel is more resonating in the audiobook performance than in the book format?

I think the emotional scenes of grief and loss definitely tug at the heart more when listened to than read.

Plugging you into the audio community since 2016.
Sign up as a tour host here.
Disclaimer – I have not read this book so I cannot speak to its appropriateness for a K-12 Christian School library. I encourage librarians to read the book before making a purchasing decision.
I choose to share it because it does sound interesting. If you read it, let me know what you think.
You can purchase books at: (affiliate links)
I55 Fundraising – If you are looking to purchase books for your library (or for personal use) or a company to use for Book Fairs – I recommend I55 Fundraising.
Kindle Unlimited Membership Plans
If you are an avid reader, you need to check out Totally Booked: A Book Lover's Companion
. Totally Booked, a companion reading journal from The Mosaic Collection, is perfect for book lovers. As a paperback, Totally Booked travels easily and is a charming gift for mothers, sisters, girlfriends, book lovers, avid readers, book club members, influencers, bloggers, and book reviewers (description from Amazon).

Other items you may be interested in: (affiliate links)
If you'd like to become an affilate for Ultimate Bundles, you can fill out the form found here.